This wig brush set includes two brushes and a cleaning brush. They help you to take care of your wigs and synthetic wigs. A must have complement for all wigs.
Steel Needle Brush
This wig comb brush is made of durable wood and stainless steel needle, which contributes to detangle the hair and style your hair effectively.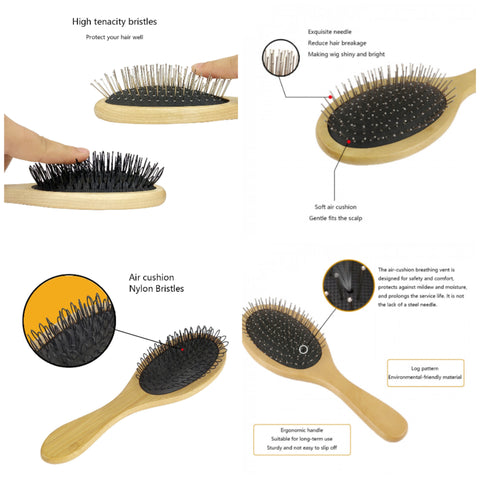 No Snag, No Worries
Whether the wig is thick, short, long, curler, our wig brush can help you arrange your wigs.
Suitable for all kinds of hair
Colorful wigs
Natural hair
Hair extension
Make your hair shiny
Massaging your hair softly and it will make your hair smooth and shiny. It can keep your scalp healthy. Deep clean hair and scalp. Regular using, your hair and scalp will be healthier, stronger and cleaner than ever. Massage scalp to ease itchiness and promote blood circulation.
More Details
We suggest to take care of your natural hair first, then comb the wig with steel needle brush, and then use a nylon comb after putting the wig on your head.
The material we use is different from other products, it can pass through the hair smoothly without pulling the hair off like other type of hair comb. Our comb is very smooth and will not entangle the hair and make it difficult to comb the hair.
Benefits of massaging the scalp
Relieve fatigue.In fact, massaging the scalp is like doing SPA for the whole body, which is a kind of relaxing behavior and eliminating fatigue behavior. People who use excessive brain can massage their scalp before washing their hair, of course, the most important thing is to have a good rest.
Promote scalp blood circulation and improve hair loss problems.In the autumn and winter season, some people drop hair is very serious, although drop hair is very normal, but drop too much to have a problem. Hair loss may be because of the scalp oil secretion is too much, or is greasy food to eat more. Massage can make the scalp more robust, can balance the scalp oil secretion, improve hair loss problems.
Promote hair growth. On the age, it is inevitable to face the problem of hair increasingly thin, so from now on you need to massage the scalp appropriately, the metabolism that can let the scalp becomes normal, long-term can play the effect of promoting hair.
What are the benefits of the head massage comb, I believe that we have a deep understanding of the head massage comb. Especially in the autumn and winter season, the weather becomes cold, people rarely do exercise. Our bodies will hoard a lot of fat, so that it will have a good impact on the head. Often use the head massage comb, not only can let oneself sleep enough but also make our bodies healthier.