Facial massage instrument belongs to a physical massage method, mainly through physical means to improve the facial blood circulation acceleration, can increase the metabolic speed of facial skin, long time use of this massage instrument, but also can play the effect of the skin care. So in the process of daily life, in addition to the regular use of facial massage instruments, but also should eat more food rich in protein and vitamins, so that they can complement each other, make the facial state better and better.
Stainless Steel Face Massage Roller
Beauty rollers are not just the hottest trend, but one of the oldest ancient items to massage, soothe and relieve skin.
In fact, because we know how much you love things that make you beautiful, we made the comfortable and cool roller. Pop it in the fridge for an extra relaxed massage.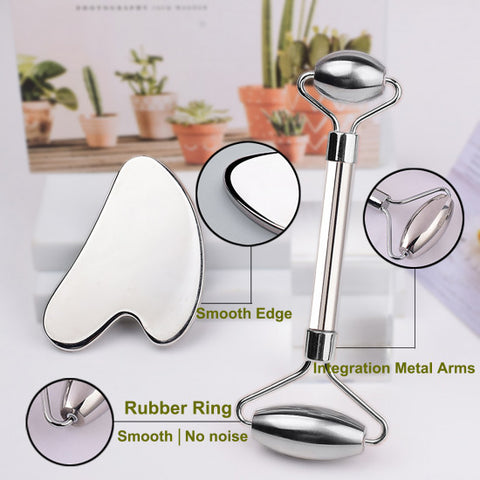 All Stainless Steel Material
Stainless steel make the whole face roller weighty and beautiful. There will be a cool feeling when holding it.
How to Use the Face Massager Roller?
STEP 1: Apply the skin care products on your face.
STEP 2: With the roller, starting on the chin, roll from the center outward and upward on the cheeks. Then work outwards to the sides of the neck.
STEP 3: Guasha board can be used on body, put the essence on the body part you want, and repeatedly scrape from top to bottom and from the inside to the outside.
Package includes: 1*Stainless steel roller, 1*Stainless steel guasha board, 1*Instructions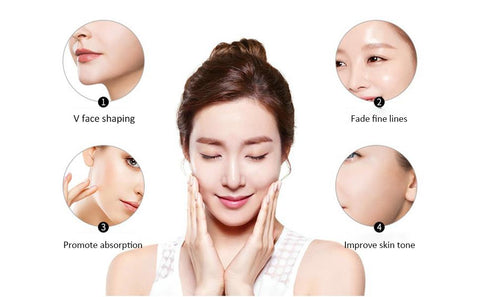 Benefits of Face Massage Roller
Face roller promote blood circulation and improve skin condition, as well as relieve stress and keep a elegant mood. Regular use of the roller helps reduce wrinkles and make you more healthier and younger. The metal rollers is the cooling effect, with essence and other lotions, can moisturize the skin. Facial massage can promote blood circulation on face. Daily use, you can see obvious change on your face and body.