Many girls will be easier to be afraid of the cold due to physical reasons, but also easy to get cold hands and feet, so usually will pay more attention to keep warm.In fact, there are over 70% female in the world suffer belly discomfort. Every female should be cared. Our team designed this portable heating pad device, which is special gift for female. Especially during menstruation, many girls will choose to warm the palace waist waist protection to keep the abdomen warm, because the warm palace waist protection belt can play a role in driving away the cold.
2-in-1 menstrual heating pad
A lot of females suffer menstrual pain around the world, we design this device, just want females have a good period time.
High-frequency vibration massage & Heating functions
Three vibration massage modes: 3000, 4500, 6000 vibrations/Min.
Three heating temperatures: 113℉, 131℉ and 149℉
Touch switch
Quickly double touch it to turn the function on.
Point touch it to adjust modes.
Touch it for 3 seconds to turn it off.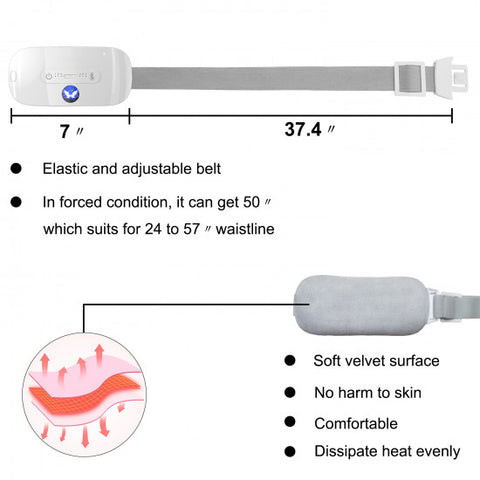 Graphene heating
Graphene heating can spread the thermal energy in a large area.
This menstrual heating pad device has a built-in graphene heating film, which has high thermal conductivity and can quickly generate heat after being turned on. You can feel the heat quickly without waiting.
Multi-functions

If you suffer menstrual pain, It can help you relieve menstrual pain
After long time working or driving, if you feel back pain, It can help you relieve back pain.
Relieve calves and legs pain.
There are three vibration massage modes and three heating temperatures. You can adjust the suitable modes you like best. According our customers' feedback, this device helped them a lot. Compare with old generation heating pad products, this one has high efficiency and continued heating. What's more, rechargeable design let it more convenient. In order to facilitate consumers to buy, we have opened a multi-channel purchase. You can buy it not only on the official website, but also on Amazon. If you have any questions, please leave a comment below or contact the staff. We are very happy to answer your questions.