【New design multi-functional】This 4D face massager was new design by us, which brings together all the advantages of the previous generation. It has micro current therapy, high frequency vibration and phototherapy care functions. You can adjust vibration mode, vibration speed and micro current intensity. There are 5 choice for every functions. In total there are 125 choices to adjust. You don't need go to SPA house, just at home to enjoy massage time.
【Micro current therapy】There are 5 modes micro current intensity. During working this face massage roller will release gentle microcurrent to stimulate ATP production which energizes the facial muscles. You can feel light tingling sensation, that means, microcurrent has been released to your body. It truly improves facial contour, facial tone, reduce fine lines and wrinkles. It effectively reduces the dark circles, puffiness and wrinkles during massaging chin, cheeks, forehead and lips etc.
【High-frequenncy vibration】 This face massager device is designed for maximum to 8000 vibrations per/min. In order to provide user best massage time, we adopt fitful vibration mode. You can feel the vibration clearly. "VM" and "MODE" buttons are used to adjust vibration ways. You can choose the best vibration speed and mode that you like. High frequency vibration can relax muscle, which has extremely effect to anti wrinkle. "V" shape roller design can help you tight skin.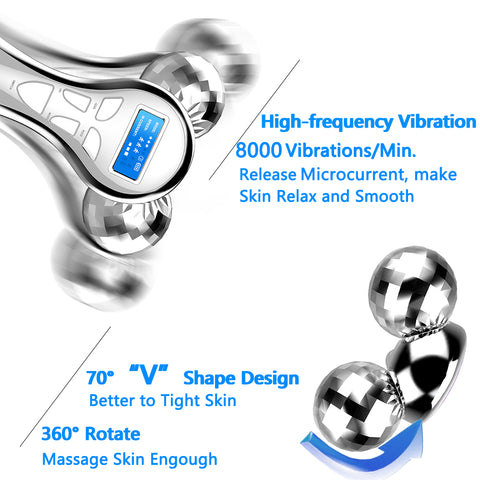 【Blue light phototherapy】 465 nm wavelength blue light, when it is irradiated with acne, almost all the energy can be effectively applied to P. acnes, which can stimulate the photodynamic changes of porphyrins to the maximum effect, kill P. acnes, and inhibit acne propionate. The growth of bacilli effectively eliminates inflammation and acne in the affected area. In addition, 465 nm wavelength blue light can also inhibit the secretion of exuberant sebaceous glands, balance skin oil secretion,
【Exquisite box】This is a super exquisite gift box, which includes, massage device x1; English user manual x1; Portable bag x1; USB cable x1; Cleaning wiper x1. This is also a good choice as gift to female , such as birthday, Valentine's Day, Mother's Day, Women's Day or Christmas Day gift.
The benefits of facial massage
What is a facial massage?
During a facial massage, your massage therapist will use upward, gentle, yet stimulating strokes. Facial massage is often considered an anti-aging treatment as it can help keep the skin looking young, smooth, and firm.
1.Relieves stresss and tension which helps prevent wrinkles. Increases circulation.
2.The increase in circulation can give your skin a youthful glow.
3.Natural Face lift. Massage helps bring oxygen to the area being massaged
4.Eliminate toxins. Facial massage can stimulate the lymphatic vessels which facilitates eliminating the toxins built up in the face.
5.Reduce congestion. Facial massage can help relieve the allergy symptom congestion by improving drainage.
In order to facilitate consumers to buy, we have opened a multi-channel purchase. You can buy it not only on the official website, but also on Amazon. If you have any questions, please leave a comment below or contact the staff. We are very happy to answer your questions.