With the increase of age, ATP produces slowly, which will cause a series of problems such as sagging skin, hair loss, and age spots. Use our products correctly can reduce muscle tension, improve circulation, improve skin tone, improve recovery of soft tissue injuries, reduce anxiety and depression, tighten skin and reduce wrinkles. Both men and women can use this beauty stick. People sitting in front of the computer for a long time will feel shoulder pain and fatigue. The face is fat, with many stains, enlarged pores, sagging and sagging skin, and rough and dull skin. All balls can roll, they won't hurt you, and very comfortable when using. About 10 minutes of treatment per day can smooth the skin and young face.
Highlights of the product
This product can be used for facial care and body care. The upper and lower balls are slightly larger than the two balls in the middle. It can be rotated 360 degrees for easy cleaning, working smoothly.
The ball part uses raw materials that simulate natural ochre, and the diamond-shaped cutting surface can contact more skin to improve the skin.
The handle part is relatively smooth, easy to use, and will not drop off easily. There is a metal hemispherical button on the top of the ball to prevent the ball from falling off. This product is small and portable, and will not occupy space in a handbag.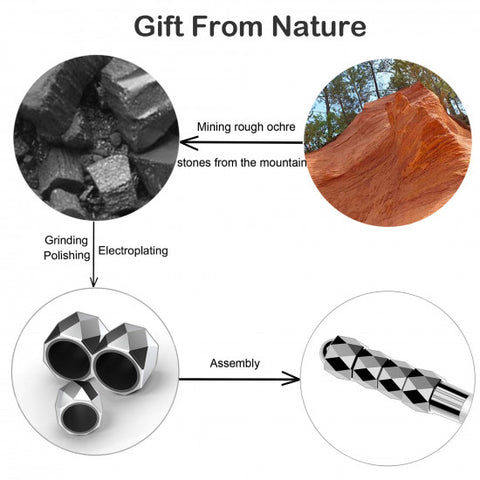 How to use
Face massage: scroll from the corners of the mouth toward the temple and then roll back, roll back and forth.
Neck massage: repeatedly rolling from the neck toward the shoulder direction can be. There is no prescribed strength, with the feeling of comfortable strength can be, it is best to slowly push pressure, do not vigorously fast rolling.
Lumist massage: Move along the thinnest part of the waist and roll up and up.
Ideal gift
It is also a good choice for gift giving. I believe your female friends will be very happy to receive such a gift. After all, every woman wants to keep herself young. The delicate face roller comes with advanced package and best quality, which can be a perfect gift to make everyone stay beautiful.
Yeamon focuses on all kinds massage device for face, neck, scalp, foot etc. Most of them are very popular among worldwide followers. We want to provide our followers best massage time. What we did, just make your families and you more and more healthy and beautiful.All of our products provide our followers forever after-sale service. In order to facilitate consumers to buy, we have opened a multi-channel purchase. You can buy it not only on the official website, but also on Amazon. If you have any questions, please leave a comment below or contact the staff. We are very happy to answer your questions.