Update Design: Compared to the last generation portable cordless heating pad, the upgraded electric heating pad has enlarged the size which has more heating area, 4 heat levels and 4 massage modes, adjustable elastic belt with connect buckle and Type-C charging.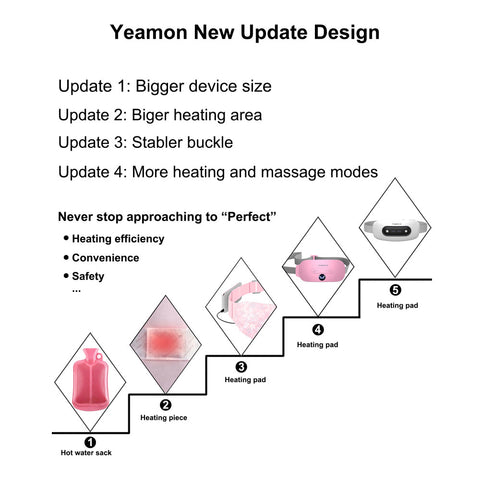 More Heating Area:The electric heating belt has enlarged the size to 8.3x3.9x1.0 inches, so that it has more heating area which can suitable for more part of your body such as belly, back, neck.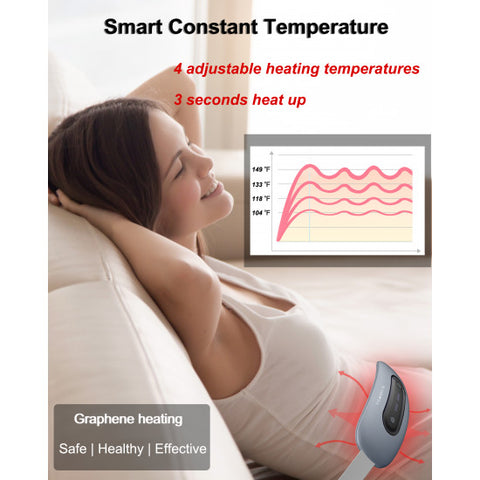 Stable Buckle:Due to some customers complain the buckle was broken when received in the last generation heating pad, so our team designed the new stable buckle. It can avoid be broken during violent transport. Moreover, it is more easily when using the device.
More Safety:The portable heating pad is designed to automatically shut down. If you fall asleep during use, our product will automatically turn off within 30 minutes when it detects that you have not made any movement, which can ensure your safety. If you want to use it again, just turn it on again.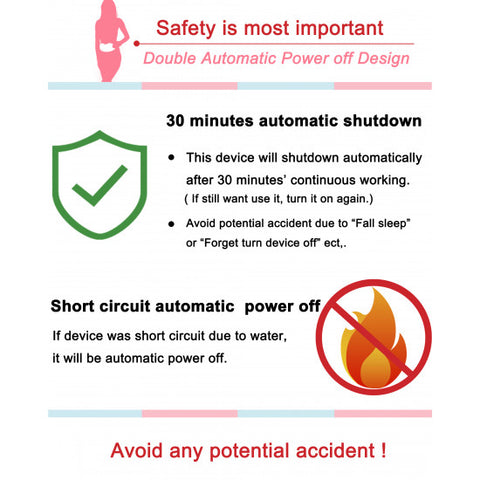 Multi-function:The portable heating pad has 4 adjustable heating levels and 4 adjustable massage modes that allows you customize a setting for yourself to achieve the ultimate comfort.(Note: The heating pad has more effective heating function. For the first use, we suggest starting from lowest temperature level, then adjust the temperature level according to your feelings. )
Benefits of the product
Fast Heating Belly Wrap Belt is very useful for women's physiology. In addition, for women and men with lumbar muscle strain, they can also use this heating belt. It can also protect to fill and stomach, effectively improve the waist sprain, waist pain and other conditions.
In order to facilitate consumers to buy, we have opened a multi-channel purchase. You can buy it not only on the official website, but also on Amazon. If you have any questions, please leave a comment below or contact the staff. We are very happy to answer your questions.