3D Roller Electric Sonic Energy Beauty Bar is so wonderful with surface diamond-grade cut small diamond shape and unique 3D "V" type design to fit the whole body tighting curve. Daily use of the beauty bar will make your face and skin look healthier and younger by reducing wrinkles and removing dark circles. The beauty bar is magical with two changeable heads, includes 3D roller massager and "T"  shape electric beauty bar. This combination will give you a great experience, I promise you'll love it.
''T'' Shape Face Massager
There are two changeable massager heads. Another is ''T'' Shape head.
It is good at tightening face skin and reduce the winkles on your face.
The face massager is 360° all body waterproof. After using, you can clean it easily.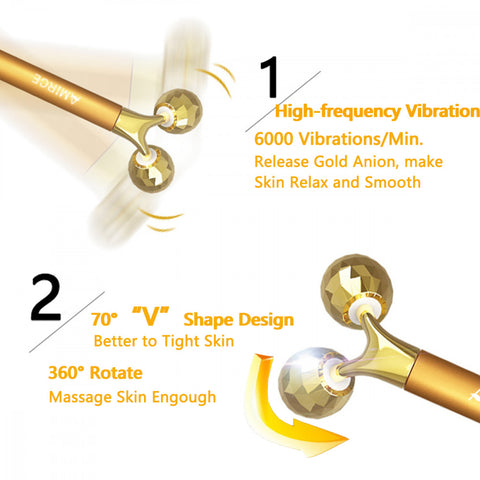 Compact & Easy to use
Due to its portable design, it is perfect for carrying in your purse, pocket or bag. Moreover, it's very convenient for you to use because the electric massage only requires one AA batteries and Manual control Twist On/Off.
Massage Another Parts on Your Body
Place your knuckles on your forehead, right between your eyebrows. Gently move them up, towards the hairline, and then sideways towards your temples. Do this in a scraping motion. Repeat this movement five times.
Place your knuckles on your chin in a way that the jawline rests between the knuckles. Gently pull the knuckles upward, along the jawline, toward your ears. Repeat this five times. Keep repeating the movements by moving the knuckles along the jawline and pulling then down to the collarbone.
Start from the neck area and move upwards. The face roller tool should be held at a 15° angle and be glided gently along the skin.
Relax the arm muscles first, then apply essence, pull the massager from top to bottom.
Apply essence on the skin, then make a 45° angle between the roller and the waist, and move back and forth several times.
First put oil on the legs, pull the massager from bottom to top with moderate strength. The inner thigh skin is very delicate, so pull the massager on your thigh skin gently.
Keep repeating the movements by moving the knuckles along the jawline and pulling then down to the collarbone.
Superior After-sales Service
It doesn't matter, how long you would have used our beauty bar. Whatever issues you have faced to, just contact with us. We provide you 60 Days money 100% refund with no reasons, as  long as you would be not satisfied with it.
Our Promise
All of our products provide our followers forever after-sale service.
What's the benefits of this massager?
It can relax your muscles and body. Combine with skin care products, it can promote skin to have a better absorbtion.