Two Detachable Comb Accessories
There are two detachable comb accessories in the package. You can change them easily.
Press the button on the top of device, you can put the comb accessory off to clean it.
Other Function
Put the comb accessory off, this device can be also used to massage neck, shoulder, arms or legs.
After long time working, perhaps you would have neck ache, just with this device massage neck for a while. Neck ache feelings would be gone.
Massage Directions
After tiring working, during rest time, massage yourself. Make you have flexible mind.
After long time driving, during rest time, massage yourself. Make you active and drive concentratedly
Let you sleep well. Improve your sleep quality.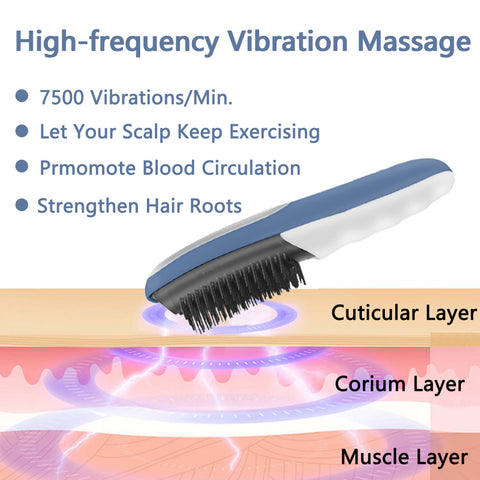 The Benefits of a Scalp Massage
Increased Circulation to Scalp
Scalp massage helps improve circulation of blood to the scalp and face, according to the Hair Style Salon website. If oil is used for the scalp massage, it can also help get rid of dandruff. The use of oil on the scalp can also help prevent new dandruff from occurring.
Feeling of Well-Being
Scalp massage feels great and can help you feel more relaxed and content. If the face is included in the scalp massage, as is often the case, it can also help reduce the appearance of wrinkles, because the face is less pinched when relaxed.
Better Sleep
Those who suffer from insomnia can find relief from having a scalp massage, according to the How to Massage website. Many people sleep better when they have regular massage, with improvement in both falling asleep and staying asleep. Conversely, scalp massage can also help those with fatigue feel more energized.  In order to facilitate consumers to buy, we have opened a multi-channel purchase. You can buy it not only on the official website, but also on Amazon. If you have any questions, please leave a comment below or contact the staff. We are very happy to answer your questions.